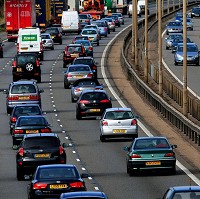 Leaders of the main political parties should make their stance clear on issues of concern to the UK's 30 million drivers, the RAC has urged in a letter to MPs.
With the 2015 general election drawing closer, our report urges David Cameron, Ed Miliband and Nick Clegg to address key issues such as poor roads, the price of fuel, lack of law enforcement and sub-standard parking facilities - all highlighted as problems in the 2014 RAC Report on Motoring .
Almost half of the 1,500 drivers questioned said the cost of putting fuel in the car is their chief concern; with the state of local roads, drivers getting away with having insufficient skills and rising parking charges also all grinding drivers' gears.
The RAC is calling for an immediate 3p cut in fuel duty.
It also urges increased investment in the roads (with an estimate of £12 billion needed immediately according to some sources).
Better policing is another key request, with many drivers worried about drivers using their phones at the wheel. Tailgating, middle-lane hogging and undertaking are other perennial worries for motorists.
Improved value for money in parking infrastructure proves another chief concern, with reductions in availability and increases in costs highlighted.
RAC technical director David Bizley said: "We know that motoring is vital to the UK economy and therefore we want the political parties to fully understand the biggest concerns on motorists' minds.
"We call on each leader to explain clearly what their party would do to address these issues and bring about positive change for the benefit of the country as a whole and everyone who uses the roads.
"Motorists are not just motorists, they also use public transport, they cycle and they are pedestrians so they are not seeking solutions at the expense of other road users.
"Nevertheless, the RAC calls on all of the political parties to address motorists' concerns head on in their election manifestos and on the next government to take decisive action."
Copyright Press Association 2014