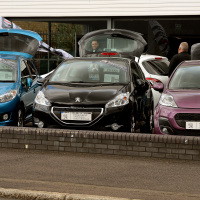 RAC Cars has announced a new vehicle search partnership to give customers "industry-changing" choice.
The driving organisation's service will merge with Motors.co.uk to give consumers a choice of more than 400,000 vehicles spanning 8,000-plus dealers.
The two sites currently bring in a combined 5.4 million visitors every month.
A new improved website will mark the launch in May.
Motors.co.uk already has Carsite, Sunday Times Driving, Parkers, Motoring.co.uk and other leading car websites in its stable.
Dealers can access customers across both brands via one Motors.co.uk feed, which will save money and time.
Customers will still have access to RAC sector-leading products, such as the RAC BuySure initiative, , , car inspections, loans and history checks.
RAC's managing director of motoring services Robert Diamond said: "In response to frustrations from dealers and concerns expressed by buyers, RAC Cars has always had the ambition of shaking up the used car market. We believe that we have certainly done this, significantly enhancing competition in the sector to get a better deal for vehicle retailers while at the same giving buyers more choice, together with the buying confidence the RAC name brings.
"Our partnership with Motors.co.uk is the logical next step to deliver maximum benefit for dealers via our significant combined reach and the ability to engage with our eight million members.
"There is also a very real benefit to both dealers and consumers as every decision to buy is supported by the opportunity to take advantage of the RAC's industry-leading products which are designed to give buyers greater reassurance they are purchasing a car that doesn't have a hidden history or an underlying mechanical issue.
"It is clear that in Motors.co.uk we have chosen the right partner with one goal in mind - to deliver more leads to dealers. And, in creating great, cost-effective solutions for dealers we are also providing great car-buying solutions for customers to buy the right car for them."
Motors.co.uk managing director Phill Jones calls the partnership "great news". He says dealers will be able to access bigger audiences, while consumers will get greater choice.
Copyright Press Association 2016. Motoring News articles do not reflect the RAC's views unless clearly stated.
%20http:/www.raccars.co.uk/ (RAC Cars)