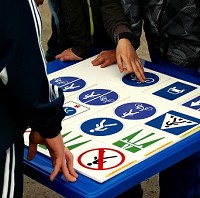 The RAC is among leading experts supporting a petition which urges ministers to make driving education compulsory in schools.
By this, campaigners mean in-class and practical lessons, rather than lowering the legal driving age.
The call comes only months after the RAC said that adding such classes to the curriculum is preferable to raising the driving age to 20.
Campaigners hope that a successful petition could lead to a reduction in the huge amount of crashes among new motorists.
The RAC says that young drivers "pay the price" with increased car insurance premiums for statistically being more likely to experience a car crash.
The figures support RAC spokesman Simon Williams' recent claim that: "Driver education for young people should start before they have the chance to get behind the wheel, to address some of these concerns. In other parts of the world that education starts in schools."
For example, motorists are twice as likely to crash after passing their test if they don't take a Young Driver education scheme. The percentage of new European motorists who crash goes down by 40% if they learn about driving while at school.
Other figures suggest that youngsters could benefit from some additional help with 20% of new motorists crashing before half a year behind the wheel on their own.
Road collisions represent a quarter of all deaths involving youngsters aged between 15 and 19. This compares to only 0.5% among the general adult UK population. Furthermore, young motorists are involved in 400 fatalities each year.
Much of the blame is attributed to the current learning system not giving sufficient preparation in certain areas.
Mr Williams said earlier this year: "Our own research suggests that young drivers are willing to consider extra training and many admit to feeling nervous and anxious about scenarios such as night driving, motorways and adverse weather."
Young Driver has started the petition, which has quickly gained support from the likes of the Driving Instructors Association (DIA), the Institute of Advanced Motorists (IAM) and the Association of British Insurers (ABI).
The firm, which is the country's biggest under-17 motoring lesson-provider, is also being backed by driving expert and presenter Quentin Willson.
Young Driver's Kim Stanton said that driving skills should be learnt over many years from a younger age. She urged people to sign the petition.
Copyright Press Association 2015