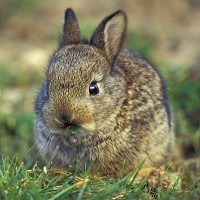 Mechanics are not usually the first port of call to save a trapped animal, but when strange noises were heard coming from under the bonnet of a car, one came to the rescue.
A wild rabbit was discovered lodged in a car engine and needed the combined efforts of an animal charity and mechanic to set it free.
It is unclear whether the driver'sbreakdown cover extended to animal invasions, but after initial attempts to free the young female rabbit failed, the mechanic was called to Aberdeen's Laburnum Walk on Tuesday and had to remove the front section of the car.
Keeping an eye on the rabbit's welfare was Scottish SPCA animal rescue officer Karen Hogg. "Despite our efforts, there was just no way of getting the rabbit out with the car still in one piece," she said.
Karen said how the rabbit got into its predicament was a mystery, but she spoke of the "great feeling" of being able to release the uninjured, but understandably frightened, creature back into the wild.
Copyright Press Association 2012