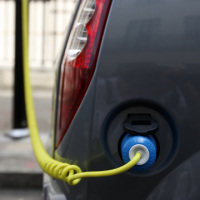 Electric cars and other alternatively-powered vehicles may produce as many toxins as diesel-fuelled ones, according to a new study.
Researchers at Edinburgh University say the vehicles produce more tiny particles as a result of brake and tyre wear than their traditionally-fuelled counterparts.
They say because their batteries and the other parts needed to power them make electric and hybrid cars heavier, their tyres and brakes wear more quickly when they slow down or accelerate.
The extra weight, they add, also causes more particles to be thrown up into the air from the road surface. The research was reported on in the Sunday Times.
The study, which has been published in the Atmospheric Environment journal, shows that electric and hybrid cars are typically 24% heavier than their conventional counterparts.
Another study, carried out by Professor Ranjeet Sokhi, of the University of Hertfordshire, suggests that only a third of the particles emitted by vehicles come from their engines.