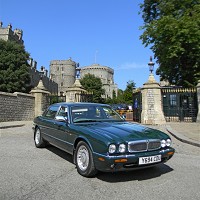 A Daimler limousine previously owned by the Queen has fetched over £40,000 at auction in Surrey.
The Daimler Super V8 LWB was in the hands of royalty from 2001 to 2004. The car was sold by Historics at Brooklands for £40,500, a total which does not include the buyer's premium.
The Daimler covered 2,500 pre-delivery miles and 11,000 under the Queen's ownership. It has been registered to the Jaguar Daimler Heritage Trust since Elizabeth II parted with it.
The vehicle was put up for auction with all its specifications and a mileage of 15,242. It features special modifications, including a centre armrest with a sliding holder, designed for the Queen's handbag.
The security lighting controls can be found in the adapted ashtray. These include a set of blue flashing strobes in the front fog lamps, alternate flashing headlamps and rear lights.
The Daimler was sold with a full service history, which reduces the risk of a car breaking down .
Copyright Press Association 2013