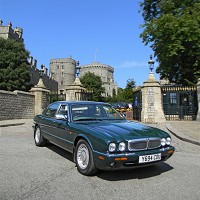 A four-litre engined car owned by the Queen from 2001 to 2004 is expected to fetch up to £30,000 at auction.
The Daimler Super V8 LWB limousine, with modifications such as a handbag holder, is predicted to sell for £25,000 - £30,000. Prior to the Queen owning the vehicle, it undertook 2,500 miles of pre-delivery trips.
It is registered with the Jaguar Daimler Heritage Trust to whom it was returned after covering another 11,000 miles before being returned in 2004.
Car enthusiasts with their eyes on this special item would do well to consider the likely costly spending essentials such ascar insurance premiums.
Modifications include an armrest with a sliding holder designed for the Queen's handbag, an ashtray was crafted to house the security lighting controls which still fully work.
There are blue flashing strobes in the front fog lamp inserts, alternate flashing headlamps and alternate flashing back lights.
A pair of neon blue lights are situated next to the rear view mirror. These were used to identify the vehicle in which the Queen was travelling when coming up to her destination.
The Daimler, to be sold with its original papers, its original tyres, a full service history and original registration number, and with photographs of the Queen driving it, is being auctioned by classic car auction specialist Historics at Brooklands at Brooklands Museum in Surrey on August 31.
Copyright Press Association 2013