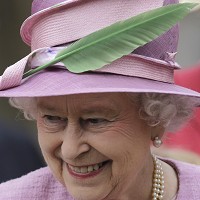 The Queen proved that age is no barrier to style as she arrived at Llandaff Cathedral for a thanksgiving service.
After arriving at Cardiff Central Station aboard the Royal Train, she swapped rail for road with her husband, the Duke of Edinburgh, completing the second leg of her journey in her official state car, a custom-built state limousine, which was presented to her to celebrate the Golden Jubilee in 2002.
From the Cathedral, the Queen, dressed in an Angela Kelly designed white and cream dress and coat complemented by a diamond brooch, departed for Margam Park.
The twin-turbo charged 6.75-litre V8 engine, with a top speed of 130mph, later pulled slowly into Margam Park, giving automobile fanatics a wonderful view of the unique car.
Alan Bowen of Cardiff claimed he had never seen anything as "grand" before and noticed the car getting admiring glances from fellow motoring enthusiasts.
Copyright Press Association 2012