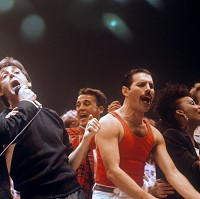 British van owners have made Queen's Bohemian Rhapsody their all-time favourite driving anthem.
The 1975 classic beat off the challenge of second-placed Guns N' Roses' Sweet Child O'Mine and Wonderwall by Oasis in third - in a new poll.
Classic rock features predominantly on the list. Toto's Africa, Lynyrd Skynyrd's Sweet Home Alabama, Don't Stop Believin' by Journey and AC/DC's Back In Black all appear in the 10 most popular tunes.
Modern classics such as Pharrell Williams' Happy, Mark Ronson's Uptown Funk and Roar by Katy Perry are also in the mix.
Commenting on the findings, an expert psychologist at Glasgow Caledonian University, D r Don Knox, says that far from loud music putting off van drivers, it can actually help increase their engagement and reduce distractions.
Dr. Knox says the common assumption might be that such highly sense-arousing, noisy tunes may have a diverting impact on a van driver - but this can actually prove quite the reverse.
He argues that noisy tunes are usually distracting if drivers do not like them. Favourite songs, however, whatever volume they are played at, can raise people's engagement in driving and other activities.
In fact, they can bolster people's performance, accuracy and enjoyment and lower off-putting interference, as well as making journeys seem to pass faster, he added.
The latest motoring anthem bias towards heavy rock classics goes beyond just the age of van drivers polled, Dr Knox believes. He said that such tunes are usually "upbeat", "positive", "dynamic" and highly arousing.
Such positive emotions from the music should bring a similarly upbeat impact upon the van driver, helping to lower the anxiety linked to motoring jobs, he said.
Such "emotional contagion" helps people ape the emotion contained in driving songs as they travel along, he added.
Copyright Press Association 2015