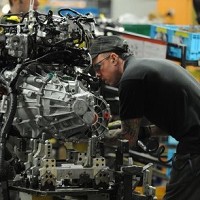 The record-breaking 500,000th Qashqai rolled off Nissan's Sunderland production line on Thursday.
No other British-built car has achieved this landmark figure in such a short space of time - just 21 months - beating the previous Austin/Morris 1100/1300 mark of 29 months.
Production of the Japanese motoring giant's trailblazing crossover only started in January of last year.
Europeans buying a car from the Nissan range are increasingly turning to the Qashqai. They account for nearly one in three (31%) global Qashqai sales, making it Europe's most popular crossover.
The model has been a particular favourite among French, Italian and Spanish customers with sales of 68,044, 45,464 and 42,306 respectively.
Topping this, however, are English consumers, with almost 100,000 drivers buying one. The company puts this down to the machine's class-leading technology as well as its style and quality.
The Nissan Qashqai has been rolling off Sunderland production lines at a rate of nearly one a minute. It has been a constant bestseller in the SMMT monthly charts, regularly featuring in its top 10.
Nissan Europe's chairman Paul Willcox calls Thursday's landmark figure "astonishing". He says it proves the model is satisfying consumers.
Copyright Press Association 2015