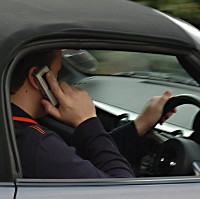 Young people are being urged to put their safety first and not give in to peer pressure while behind the wheel.
Research shows that one in 14 drivers have taken a 'selfie' of themselves driving despite indisputable evidence that using a mobile phone while in control of a vehicle puts the motorist and other road users in serious danger.
Selfies are photos taken by mobile phone users of themselves using their phone as a camera. The pictures are then often uploaded onto social media websites. The craze is currently sweeping the nation and beyond with celebrities worldwide snapping themselves and uploading the pictures onto the internet.
One in 10 motorists have had an accident while using a phone at the wheel. And while driver safety is always the most important thing, accidents can also seriously push upcar insurance premiums.
RAC head of external affairs Pete Williams said: "Taking a 'selfie' on your phone, talking or, for that matter texting, at the wheel of a vehicle is adding a massive physical distraction and impediment to being fully in control of your vehicle which is why it is illegal to do so.
"Our own research has revealed that 21% of motorists admit to using a hand-held phone when at the wheel which amounts to more than seven million drivers on the road and yet only 575,000 drivers have been prosecuted for doing so. We also know from the RAC's Report on Motoring that other people using hand-held mobile phones is the biggest stress factor (77%) for drivers ahead of tailgating (74%) and road rage (64%).
"With enforcement appearing not to be working we perhaps need to talk less of fines and more about how we create a united campaign that aims to make speaking, texting and using social media on a hand-held mobile as socially unacceptable as drinking and driving."
Copyright Press Association 2014