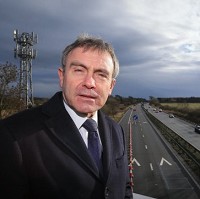 A new survey underlines just how hazardous the roads are for primary school-aged children.
Over two-fifths of 4,787 seven-to-11-year-olds (41%) claim they have either been struck by a road vehicle, or suffered a near miss while cycling or walking, according to the poll from Brake.
The road safety charity's survey is published to coincide with its Road Safety Week activities (November 17-23).
Two in three pupils polled think their local roads may be risky for biking or walking.
The charity also said drivers are incurring careless motoring and speeding fines at an average rate of nearly one every 30 seconds. Last year as many as 950,505 fixed-penalty tickets were issued for the latter category and 17,483 for the former.
RAC head of external affairs Pete Williams said: "These are the kind of statistics that will concern every parent, despite the fact that overall the number of road accidents in the UK continues to fall.
"But as the motorist's champion, the RAC is committed to making our roads safer places for everyone and we believe the key to this will be engaging road users from a young age and championing safety education in schools. A greater effort is needed to bring casualty numbers down further as every life lost is one too many and another family devastated.
"It is our duty to make sure that future generations understand how to use our roads safely, and stay safe themselves - after all, these children will be the motorists of the future."
Brake, which launched the new campaign on Monday, November 17 urges every road user to keep an eye out for one another to help reduce the carnage on our roads. It says that 61 severe injuries and five days happen on average each day.
Brake's Julie Townsend urged motorists to keep to a maximum 20mph in villages and towns.
Robert Goodwill, the Minister for road safety, says the Government is substantially funding better school education and road safety.
Copyright Press Association 2014