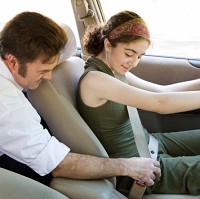 Teenagers are being offered driving lessons in their school's grounds under efforts to give them a head start when it comes to getting behind the wheel.
Pupils as young as 14 who attend Eyemouth High School in Berwickshire have been offered lessons as part of a programme lasting nine weeks.
In the course the students are taught about the Highway Code and they also learn how to conduct three-point turns and how to parallel park.
The school has cordoned-off an area of its car park so the children are able to practise, and lessons on the theory test are held inside a classroom for the children involved in the scheme.
High school deputy head Mike Ainslie said: "It's been a big success.
"Feedback has been nothing but positive.
"They're all trying to get in for next year, when we'll be looking at running the lessons for 12 weeks.
"These kids have shown huge enjoyment."
Driving instructor Colin Nicol said: "Under 21s are a minority group among drivers, but they have the majority of accidents.
"That's important for these kids to remember when they are learning."
Being taught to drive safely is important so the motorist can avoid accidents which could have an impact upon car insurance premiums as well as the safety of themselves and other road users.
Copyright Press Association 2012