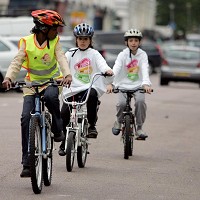 The majority of primary school teachers are seriously concerned about the safety of their pupils while they are walking or cycling to school, a survey has shown.
A total of 77% are actively campaigning to make roads safer for children, while a massive 92% of primary schools think roads need to be made safer for pupils to walk and cycle.
Some 81% of schools are calling for 20mph limits in their surrounding area, with just 12% already having them in place, a survey by road safety charity Brake and Hampson Hughes Solicitors revealed.
In the UK, 12 children are injured every day by vehicles when walking or cycling to or from school, and two are killed or suffer serious injuries.
Brake deputy chief executive Julie Townsend said: "It's telling that so many schools are actively campaigning for safer streets, showing there's a lot more we can do to protect children's right to walk and cycle safely. It's not acceptable that children continue to be hurt and killed daily on roads."
The survey coincides with the UN's global road safety week during which charities are calling for widespread 20mph zones.
Copyright Press Association 2013