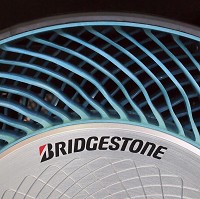 Flat tyres could soon be a thing of the past.
Tyre maker Bridgestone has revealed plans to introduce its AirFree concept tyre on road-going cars within the next three to five years.
The un-puncturable tyres work by having closely-set and diagonally aligned splines supporting the wheel rim and providing a measure of suspension, while still offering enough rigidity for everyday use on the road.
Plastic centres, meanwhile, leave just a thin strip of rubber on the outer edge of the wheel, unlike tyres at present.
No pressurised cavity means the tyre cannot be punctured or rendered unsafe.
Even run-flat pneumatic tyres currently available to drivers impose speed and distance limits following a loss of pressure, but Bridgestone hopes the AirFree concept will represent a significant step forward in this area.
The Japanese company, which made the announcement at a special event at its headquarters in Tokyo, is likely to introduce a choice of wheel colours in due course if the idea turns out to be successful.
Copyright Press Association 2014