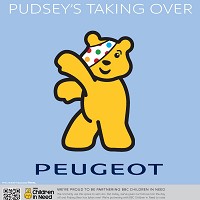 Pudsey took over Peugeot's famous logo on Friday as the French car-maker joined forces with BBC Children in Need to raise funds.
The charity's mascot was used in a redesigned logo that replaced Peugeot's famous lion for the first time in national advertising.
The famous bear replicated the pose of Peugeot's lion in adverts that appeared in The Times, The Sun and Metro.
Pudsey also featured prominently in the car-maker's social media output.
The partnership was introduced to help generate interest and raise money through the 'Pudsey's Dream Wheels' game at pudseysdreamwheels.co.uk.
By logging on to the site, users were first given the chance to design their dream car using a simple tool, before choosing whether to make a donation and enter a competition to win a Peugeot 208.
Tim Zimmerman, managing director at Peugeot UK, described how pleased the firm was to get involved with Children in Need and raise awareness of such a worthwhile cause.
"Peugeot is extremely proud to partner with a charity as iconic and important as BBC Children In Need. In this, our first year of partnership, we wanted to drive home the message that everyone at Peugeot is supporting the charity and the excellent work they do for disadvantaged children," he said.
Copyright Press Association 2012