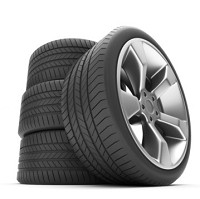 New research has revealed that as many as two in three drivers are not aware of the new EU tyre labelling regulation that was introduced towards the end of last year.
The rules were brought in on 1 November 2012 but a survey from Continental tyres shows that most people do not know about them and over half of respondents (52%) said the new label would not alter their decision-making at all.
The change means tyres are now rated for fuel efficiency, wet grip and external noise and the brand manager at Continental tyres, Peter Robb, says it is a very significant move and that people's awareness will grow in the years to come.
"It's the biggest thing to happen to the industry for quite a while and it seems to be passing a few people by," he said.
"If you're only in the market for new tyres every two years it could be a year-and-a-half before you're exposed to the tyre labelling. I think if we did the test in two years' time the awareness level would be quite high."
A fifth of respondents in the poll said the labels were confusing, while the same proportion wrongly thought that one category would tell them how many miles a tyre would last and a quarter said there wasn't enough detail and there are other considerations like buying from a trusted dealer.
Copyright Press Association 2013