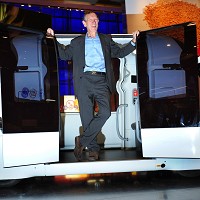 Despite the blemish-free safety record of Google's driverless car, a large proportion of motorists remain unconvinced about the benefits of self-driving vehicles, a new poll has revealed.
Four in 10 drivers said they would never consider purchasing a driverless car, according to a survey by the Institute of Advanced Motorists (IAM).
The California-based internet giant's driverless vehicle has so far notched up a total of 300,000 miles without an accident, but almost two thirds (65%) of motorists are unsure whether driverless technology is a good idea, the IAM poll found.
Driverless cars use radars, artificial intelligence and GPS to navigate the roads without the need for a human driver.
Advanced driverless car technology could make it physically impossible to break the speed limit, while the lack of accidents means drivers could potentially cut their car insurance costs.
Approximately half of those quizzed said that driverless cars are a good initiative for the future, although 56% believe there is no chance of them becoming widely adopted within the next decade, the survey discovered.
IAM chief executive Simon Best said: "The presence of driverless technology in every car is still many years away."
Copyright Press Association 2012