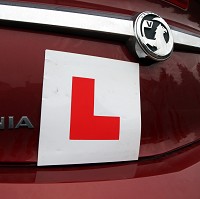 Measures to restrict the driving activity of youngsters who have just passed their test have the backing of two-thirds of adults, our new survey reveals.
The results from the RAC Foundation poll of 2,101 people show that 66% think young drivers should only be able to carry a certain number of passengers in their cars, while 61% support an idea to stop them driving in the early hours of the morning.
Around two fifths (41%) of young drivers themselves would support some kind of graduated licensing scheme, although 32% don't think it is necessary.
Another key finding was that 83% of respondents consider young people to be a problem when they are involved in crashes, while just over half (52%) think the same about older drivers.
Nearly three quarters of the poll participants (71%) agree that road safety should be a higher priority for politicians.
Furthermore, 64% of parents indicate they would ensure their children follow any new rules that are set.
Drivers between the ages of 17 and 19 account for only one in 60 UK motorists, but one in eight people who are killed or injured on the road are victims of crashes involving drivers from this age group.
Using data from countries in which graduated licensing is already in operation, the Transport Research Laboratory believes a similar scheme in the UK could reduce the casualty list by 4,500 a year - including 430 deaths and serious injuries.
"Just a few days ago we saw that deaths on Britain's roads had fallen again," says RAC Foundation director Professor Stephen Glaister.
"But the rate of decline over recent years has slowed and the issue of young driver safety is one of those matters that must be addressed.
"We now know there is a great deal of support for it amongst the British public. What we don't know is why ministers have not acted. The current Government has repeatedly promised a green paper on young driver safety and repeatedly failed to produce it.
"If there were any other area of public health policy where this level of harm was taking place there would be an outcry, yet as a nation we seem to accept what is happening to many of our young people when they get behind the wheel."
Copyright Press Association 2014