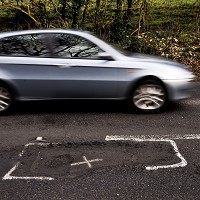 Over four-fifths of people are in favour of a scheme which would see thousands of potholed roads repaired using cash generated by fuel duty.
The largest groundswell of support comes from eastern England, Yorkshire and Humber and Wales, the poll by the Local Government Association (LGA) found.
Fuel duty raises £33 billion a year for the Treasury, the LGA says. But the Government is actually spending just under £2 billion annually on keeping our roads in good condition and improving them over the next five years.
The group is calling on the Government to invest an additional £1 billion accrued from fuel duty into the roads. It says this would be the equivalent of 2p a litre of fuel duty at the moment and not be costed by raising fuel duty rates.
Some 83% of respondents support the plan, the survey shows, while this increases to 90% in eastern England, 88% in Wales and 85% in Yorkshire and Humber.
A total of 1,006 people took the survey. A fifth of these say a political party that pledges to divert extra funds into fixing the roads could win their vote for the general election in 2015.
RAC Foundation director Professor Stephen Glaister said: "Time and again, the poor state of the road network is the biggest transport concern among the public.
"There is no question more money should be spent on maintenance. Ring-fencing some cash sounds a good idea, but the danger is that you set the amount too low and after the next bad winter you actually need much more than you originally asked for."
Copyright Press Association 2014