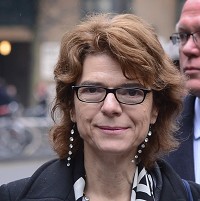 Vicky Pryce, the ex-wife of disgraced former MP Chris Huhne, has been found guilty of perverting the course of justice by taking speeding points for him a decade ago.
The 60-year-old was convicted by a jury of seven men and five women who reached a unanimous verdict after a retrial at Southwark Crown Court.
Former energy secretary Huhne, who pleaded guilty last month to perverting the course of justice, and Pryce now both face possible jail sentences.
Pryce has been granted bail until sentencing, although a date has not been set. Huhne will also be sentenced at the same time.
"Obviously Ms Pryce was present when I indicated to Mr Huhne the inevitable consequences of a conviction for an offence of this sort," said Judge Mr Justice Sweeney.
"She must be under no illusions that my granting of bail indicates any watering down of that provisional approach."
Copyright Press Association 2013