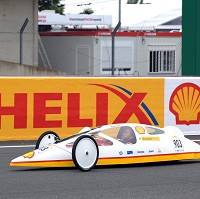 A prototype car on show in France has taken the idea of long-distance driving up several gears.
The Microjoule La Joliverie recorded 10,652 miles per gallon ahead of the 24 Hours of Le Mans - the oldest endurance race in the world - highlighting the huge development potential in internal combustion.
It swept aside the competition in a special Shell Eco-marathon , continuing its recent domination in the events.
While the car is much slower than the prototypes of racers gearing up for the main event this weekend, it certainly makes up for it when it comes to fuel consumption.
If there had been time for it to complete last year's full Le Mans-winning distance of 5,165km, it would have used just 1.3 litres of fuel - costing around £1.50.
The Microjoule La Joliverie - powered by compressed natural gas - is the brainchild of a group of French students.
At the recent Shell Eco-marathon in Rotterdam, Netherlands, the team achieved the most fuel-efficient performance in a combustion engine category, with 2,551.8 km/litre equivalent.
That is the same as driving from Rotterdam to Moscow.
Racing driver Nicholas Prost, son of four-time Formula 1 champion Alain Prost, says the Microjoule La Joliverie - and all the other Shell Eco-marathon cars - are breaking down the barriers of long-distance driving.
He admits he cannot wait to see what the young technicians of today will go on to achieve in the future.
Copyright Press Association 2015