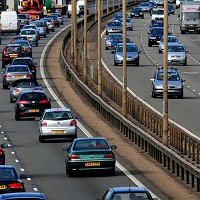 Ministers could levy motorists who use motorways and trunk roads with an annual bill of up to £150 under a reform of vehicle charges.
The proposal is part of wide range of options that the Government is considering as part of an overhaul of vehicle excise duty.
A flat-rate tax has already been dismissed, but ministers are considering implementing charges based upon carbon dioxide emissions and the weight of a vehicle.
Officials want the new charges to be counterbalanced against a reduction in the basic rate of road tax, with the aim to make the alterations 'revenue neutral'.
Opponents to the plans have called the proposal the 'poll tax on wheels' and said it would disproportionately affect drivers of large vehicles, who require a greater use of the motorway network.
The proposals are thought to counteract a predicted fall in revenue from traditional road tax as motorist start to opt for smaller or green vehicles that carry a lower rate of tax. Currently the Treasury rakes in £6 billion a year through vehicle excise duty.
The radical reforms put forward by the Department for Transport and the Treasury will open up Britain's roads to the private sector with maintenance contracts put out to tender. Companies would then be free to impose tolls on newly built roads, which when taking into consideration with the cost of car insurance, road tax and breakdown cover, vastly increases the financial burden on the motorist.
Copyright Press Association 2013