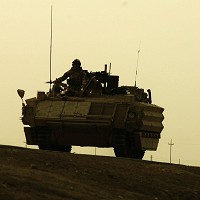 A consultation has begun on plans to raise the speed limit for Army tanks from 20mph to 40mph.
The Department for Transport wants to double the speed limit of armoured vehicles in England and Wales, in a bid to better prepare drivers for operational deployments both at home and overseas.
It claims the armed forces need effective and appropriate training, and this includes driving tanks at speed.
"It seems our armed forces need more practice at, literally, rapid deployment," said RAC Foundation director Professor Stephen Glaister.
"With troops now out of Afghanistan it makes you wonder what target military chiefs are eyeing up next."
He said: "But tank commanders should beware. While they will theoretically be allowed to go faster, congestion might mean they never get near the limit as they are stuck in the same jams as the rest of Britain's 38 million drivers.
"But at least they'll be in the right vehicles to tackle the potholes that blight the road network."
Under the Road Traffic Regulation Act 1984, British Army tanks and other armoured tracked vehicles are restricted to a maximum speed of 20mph.
It remains to be seen whether this will change when a consultation on the plans finishes on April 24.
Copyright Press Association 2015