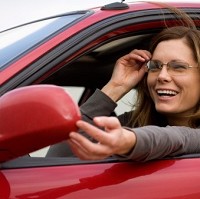 The future of driving could mean that cars can drive themselves for part of a trip, researchers have announced.
Experts at Oxford University are testing a robot-led driving system on a modified Nissan Leaf electric car.
The project is one step closer to making ordinary cars which can provide autopilot on some designated sections of ajourney planner , making driving more relaxing in rush hours.
The inexpensive device can navigate using compact cameras and lasers incorporated into the shell of the electric car and connected to a computer in the boot.
The system is activated via an iPad on the dashboard which displays an option for the car to drive automatically for a section of a regular journey.
At any point, a light touch on the brake will restore the car to its normal mode.
The project is being directed by Dr Ingmar Posner and professor Paul Newman from Oxford University's engineering science faculty.
Prof Newman commented: "Instead of imagining some cars driving themselves all of the time we should imagine a time when all cars can drive themselves some of the time. The sort of very low-cost, low-footprint autonomy we are developing is what's needed for everyday use."
Copyright Press Association 2013