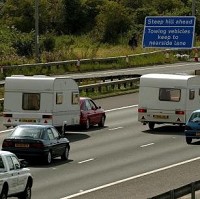 The potentially dangerous blind spot often encountered by motorists towing a trailer or caravan could soon become a thing of the past, boffins at Land Rover hope.
The manufacturer is working on see-through trailer technology to help motorists see what is on the road directly behind them.
The prototype - which follows Land Rover's development of see-through bonnet technology - uses a wireless digital camera attached to the back of a caravan or trailer.
Combined with other cameras it helps create a live, high-quality video image displayed on the rear view mirror, which makes the trailer or caravan behind seem transparent.
Jaguar Land Rover says the Transparent Trailer system will help improve visibility and make manoeuvres such as overtaking and reversing safer.
The project also includes the development of a Cargo Sense app. It uses a video camera and pressure sensors in the trailer to alert the driver if their load moves in an abnormal way.
It can also be used to remotely monitor the trailer and its load while the driver is away from the trailer.
Copyright Press Association 2015