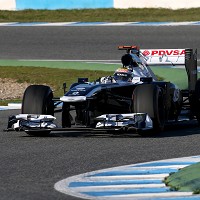 The BBC is making a documentary about the lone woman driver in the competitive, male-dominated world of Formula One motor racing.
The programme, which is scheduled to be aired on the BBC in Scotland, will focus on the Williams development driver Susie Wolff and has been shot by her brother, the Bafta-nominated filmmaker David Stoddart.
The documentary will feature the likes of Lewis Hamilton and David Coulthard and its 30-year-old subject says she does not drive a racing car to show "how good women can be against men" but because it is what she loves doing.
"I race because it's my passion and I hope this documentary will give an insight into a very competitive world, in which I've been racing since I was a young girl," she said.
Her 31-year-old brother admitted that it wasn't easy being both documentary maker and brother and Wolff, who is from Oban in Argyll but now lives in Switzerland, agreed that it was hard work.
"Shooting the film was one of the hardest things I've ever done," she said.
"I'm a fairly private person, so to have my brother follow me for nine months, through some pretty difficult times - let's just say it was a big challenge."
Copyright Press Association 2013