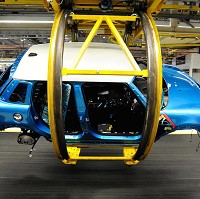 Just months after the Mini Hatch was launched by BMW, the manufacturer has announced a brand new variant of the model.
As part of a £750 million investment programme across its UK production facilities, work has now started on the much-anticipated, five-door Mini Hatch.
The new model will go on sale this autumn, BMW confirmed.
The five-door option becomes the second Mini to be built on a new platform designed to make the production process more efficient.
The manufacturing is more flexible which means more models of greater variation can be made more easily - a key factor in the build-to-order element of Minis.
A new bodyshop at the main Oxford site has been created in preparation for the new generations of Mini, while there has also been changes and improvements at the Swindon plant, where many of the car's components are made.
The new Mini has been produced in Oxford since 2001 and, despite the second generation of the model coming out in 2006, its looks haven't changed much since then.
One of the Mini's main selling points is its personalisation options, which include being able to add elements like a contrasting roof colour, alloy wheels and stripes.
Copyright Press Association 2014