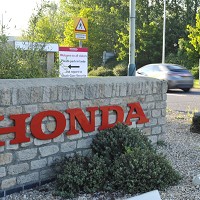 Thousands of employees have returned to their jobs at one of the UK's biggest car factories after a four-month shutdown.
Some 3,400 workers and management staff returned to the Honda plant in Swindon, Wiltshire, on lower wages and will produce fewer cars this year.
A total of 1,300 workers took the company's offer of voluntary redundancy during the shutdown. The remaining employees agreed a 3% pay cut for the next 10 months while managers face a 5% wage reduction. Around 400 workers have been given new roles or training because their jobs no longer exist.
Staff received full pay during the first two months of the shutdown and around 60% for the last two months. The factory was given a facelift, with Honda stripping and rebuilding assembly lines and redecorating throughout.
Director of Planning and Business Administration David Hodgetts said: "We have halved our production to match sales and we will gradually increase over the next few months so we are confident for the future. This has got to be seen as a good sign from an economic point of view."
Copyright © Press Association 2009