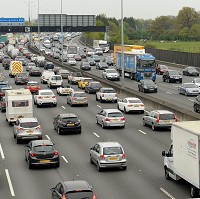 Proposals to privatise roads in the UK and allow companies to charge tolls on some of the nation's major route - including the A1 and M25 - are being debated in Parliament.
The Infrastructure Bill recommended in the Cook Report proposes several radical changes. These include replacing the Highways Agency with a company; selling stretches of road off to the private sector and allowing companies who maintain roads to charge tolls.
The government has initially accepted the bill despite apparent public opposition and anxiety about the powers it confers on private road management companies.
Nigel Humphries, spokesman for the Association of British Drivers (ABD), said: "It would be politically unacceptable for the government to privatise our roads and bring in a national road pricing scheme in one go.
"This could see the roads carved-up to a number of outsourcing companies, who will be out to make a profit. The Bill worryingly sets up powers to apply a toll."
The radical proposals will prove unpopular according to a survey by the ABD.
More than half of those surveyed do not want road maintenance to be privatised while 77% would avoid toll roads. Furthermore 64% believe that tolls on roads that are currently free would lower their standard of living.
Copyright Press Association 2014