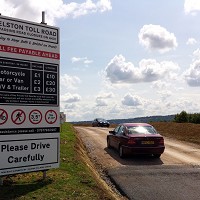 More than 100,000 vehicles have used a private toll road that allows motorists to bypass a blocked main route.
The temporary road across two fields, made of rolled chippings, allows drivers to get around Kelston Road - a busy section of the A431 linking Bath and Bristol - after it had to be closed because of a landslide.
The man behind the toll road, 62-year-old Mike Watts, thought of the idea in a local pub. The Kelston Road has been shut since February and it is thought that it won't be open again until at least Christmas.
Motorists pay between £1 and £3 each time they use the road, with those in cars and vans having to pay £2. Motorcyclists pay £1, while commercial vehicles and trailers pay £3. There are discounted rates for motorists who use it on a regular basis.
The road opened at the beginning of August and it cost Mr Watts £150,000 to build. He expects running costs to amount to another £150,000 so he needs to recoup £300,000 to make it break even.
He feared he might lose his home if he didn't make the money by Christmas, but has now made two thirds of the money already.
Mr Watts, who lives on the Bristol side of the toll road but has businesses in Bath on the other, was pleased to see the 100,000th vehicle use it on Sunday. He predicts the proceeds will hit the £300,000 mark some time in November.
The work on the A431 is already under way and, although it is estimated that it will reopen around Christmas, it could be ready earlier than that so Mr Watts needs to at least break even as soon as possible.
He says once the main road is open again he will remove the road and there will be two fields there once more.
Copyright Press Association 2014