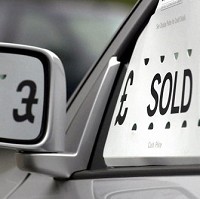 Private purchases are fuelling a continued resurgence in car sales, according to new data.
The 66,749 new registrations in February marked a 7.9% rise on the corresponding month last year, the Society of Motor Manufacturers and Traders (SMMT) said.
More and more motorists are routing theirjourney planner to the UK's forecourts - with February's figures meaning that new car registrations have increased every month for the last year.
They brought the total of vehicles sold in 2013 to 210,392 - a 10.3% rise on new registrations in the first two months of 2012.
The hike in private sales in February was the sharpest since the end of the Government's car scrappage initiative in March 2010.
SMMT interim chief executive Mike Baunton said that February is traditionally a slack month as motorists look forward to March's plate changes, but lucrative new car deals are sustaining the market.
Mr Baunton added: "New models are delivering ever greater fuel efficiency, practicality, refinement, technology and predictable ownership costs, so motorists are seeing the benefit of new car purchases."
Copyright Press Association 2013