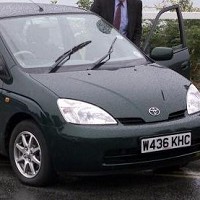 Tax breaks and government subsidies for environmentally friendly vehicles helped Toyota's hybrid vehicle, the Prius, retain its spot as the top-selling car in Japan in October, an industry group said.
It is the sixth consecutive month the car has been the most popular in the country. Toyota, the world's biggest car manufacturer, sold 26,918 cars in October, according to the Japan Automobile Dealers Association. This is an increase from the 6,341 sold in October last year.
The impressive sales figures helped Toyota to post an unexpected profit, with a net income of 21.8 billion yen (£145.7 million) for the July-September period, after three negative quarters.
Honda's Fit compact came second place in October with 15,444 units sold, the association said. Although the Fit is not a hybrid, it still qualifies for tax breaks because it's fuel-efficient.
Toyota's Vitz subcompact, marketed overseas as the Yaris, came in third last month. Honda's Insight hybrid -- a direct competitor with Toyota's Prius -- was ninth.
Copyright © Press Association 2009