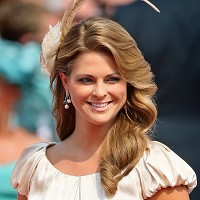 Not even a soon-to-be-married princess can get away with breaking the traffic rules in Sweden.
Princess Madeleine, the daughter of King Carl XVI Gustaf, was pulled over by police in Stockholm four days before her wedding to New York banker Christopher O'Neill.
She was caught driving in a bus lane through the capital city and now faces the prospect of a 1,000 kronor (£100) fine.
Lars Lindholm, acting head of the unit that stopped the Princess, told newspaper Aftonbladet that the King is the only Swedish royal with immunity from prosecution.
However, court spokesman Bertil Ternert said police seem to have missed the fact that Madeleine was driving a car from the Royal Mews with special permission to use the public transit lanes in the city.
Police spokesman Kjell Lindgren has declined to comment. Flouting traffic rules is also a serious offence in the UK, with guilty drivers facing the prospect of points on their licence and consequently higherinsurance premiums in the future.
Copyright Press Association 2013