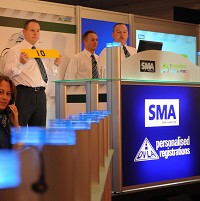 A flurry of interest is expected when an all new range of personalised number plates is unveiled at auction.
Due to decamp in Leeds later this month, DVLA Personalised Registrations is expecting the increased attention thanks to all new 11, 12, and for the first time - 13 series plates.
The forename based plates include: DE12 EKS, GO12 DON, FE12 GAL, KA12 ENS and RE13 ECA, while BA12 TON, CA11 DER, H122 RST and MA10 NES all prove popular surnames.
Proud city dwellers even have the chance to showcase their roots with BO11 TON (Bolton), DU12 HAM (Durham), HA11 FAX (Halifax) and TWH 178Y (Whitby) all going under the hammer, while Hull City supporters have the chance to buy HU11 CTY.
Jody Davies, DVLA Personalised Registrations' events manager, said: "I can't quite remember a sale containing so many prime names littered among those going under the hammer than those we're selling in Leeds.
"While definitive names always generate immense interest, it's worth noting as usual we will be auctioning 1,500 registrations covering a whole host of initials, topics and business names."
Copyright Press Association