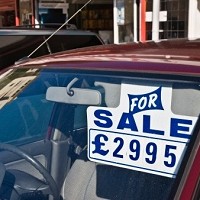 The value of nearly new cars registered a 9.4% monthly rise in October, according to new research.
The steep increase may be explained by the low volume of relatively new cars sold at auction, the latest British Car Auctions (BCA) Pulse Report found.
Used cars across the board retailed at an average selling price of £6,481 in October, the highest figure on record since Pulse began reporting in 2005 and a monthly increase of £166 or 2.6%.
The year-on-year figures were even more impressive, with the used cars selling for an average of 8.6% or £580 more than 12 months previously.
The rise in prices is largely attributable to the shortage of high-quality used car stock created by car owners holding on to their vehicles for longer during the UK's financial downturn.
The lack of competition in the market has seen average values soar by almost £900 since 2012's April low point of £5,599.
BCA UK operations director Simon Henstock said buyers remained "firmly focused" on vehicles in top condition and that owners of more careworn cars needed to price them realistically.
"Those retail quality cars are making often exceptional prices, but cars in poorer condition need to be sensibly valued if they are to attract the buyer's attention," he said.
Copyright Press Association 2012