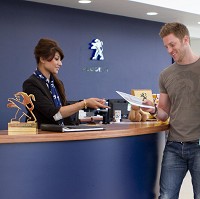 A new survey among motorists has found that affordability is the most important factor for those planning to buy a new or used car.
The poll revealed that two-thirds of drivers value price more than any other factor.
Just under one in two (46%) said fuel efficiency is the key aspect when it comes to buying a vehicle, and a third opted for the size of the car.
The next most important factor was found to be the cost of car insurance , at 28%, followed by colour at 15%, air conditioning at 12% and digital radio at 2%.
The survey, carried out by Usurv for Carfinance247.co.uk, also showed that a vehicle's size is more important for men than women, with 35% of male drivers saying it is the key factor when it comes to buying a vehicle, compared with 29% of women.
On the other hand, a third of women consider the cost of car insurance the most important factor, compared with 26% of men.
Copyright Press Association 2013