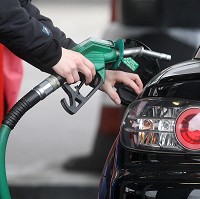 A fall in petrol prices pushed down inflation further than expected last month, bringing relief to hard-pressed consumers.
Consumer price index (CPI) inflation dropped to 2.4% in April, from 2.8% in March, as lower fuel costs and air fares caused overall transport prices to fall for the first time in almost four years.
Plunging global commodity markets have hit the price of Brent crude oil in recent weeks, driving petrol and diesel costs down, which has helped to ease the burden on consumers already struggling with other motoring costs such as insurance andbreakdown cover .
Petrol prices fell by 2.1p over the month to 136.4p a litre compared with a 3.2p rise a year earlier. Diesel was 3.9p lower to 141.7p per litre, compared with a 2.1p rise a year ago, theOffice for National Statistics said.
However, inflation has been predicted to peak at above 3% over the summer, so the respite might be short-lived.
Howard Archer, economist at IHS Global Insight, said: "April's marked drop in inflation to a seven-month low of 2.4% is very welcome news, providing significant relief for both consumers and the Bank of England."
Copyright Press Association 2013