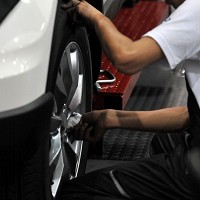 Students always seem to have a lot on their mind: whether it's what to write about for their next essay, how to pay for the week's shopping, or even what to wear on a night out.
But new research suggests they should be dedicating more time to treads than threads - as it seems a fifth have never checked the tyres on their cars.
While the stress of exams is enough to give even the brightest student some anxiety, the research by charity TyreSafe appears to suggest it may be the state of their tyres that eventually causes a breakdown .
One in 10 even admit they believe it is up to their parents to check the tread depths or pressure on their car's tyres - suggesting that going to university to gain some independence does not stretch to all matters.
The charity praises the quarter of respondents to its survey who said they had carried out the necessary checks themselves in the past month, but warns the rest that they could be putting themselves at risk of penalty points and a fine - or possibly worse - if their tyres do not meet legal standards.
Of course, not all of the knowledge students need can be found in their course textbooks, so the charity has come up with some top tips to ensure tyres are safe.
If the outer band of a 20p coin is obscured when it is placed into the main tread grooves of the tyre, then it has enough tread depth - a minimum of 1.6mm.
As for the tyre's pressure, the recommended amounts can usually be found in the handbook or on the driver's door sill.
Copyright Press Association 2014