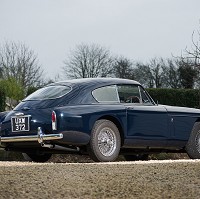 A 58-year-old Aston Martin that has been owned by only two families is expected to fetch between £160,000 and £180,000 at auction later this month.
The rare DB2/4 Mk III is going under the hammer at Race Retro's Silverstone Auctions at Warwickshire's Stoneleigh Park between February 27 and 28.
The Green family has owned the classic for 56 years, having bought it from Somerset-based W. Griffith, who had acquired it from new two years earlier.
Marcus Green bought it then and it is now in the hands of his son-in-law, an expert mechanical engineer who totally restored the car.
Race Retro's Silverstone Auctions are no stranger to big price tags.
In 2014 a then 55-year-old Jaguar XK150 sold for £124,200. The Drophead Coupe had a special significance since it was once owned by the doctor at the heart of the notorious Profumo scandal, Stephen Ward.
Last year three low-mileage Italian racers fetched over £400,000 between them.
A Ferrari Testarossa went for £202,500 while the Alfa Romeo 1991 SZ and Ferrari 456M fetched £84,938 and £118,125 respectively.
This year's prized Aston has only 69,000 miles on the clock.
There is even a documented photographic timeline which shows each step of the restoration, which took over two years.
The auctioneers say that a great deal of time and effort went into ensuring that the new panel shut-lines bettered the original versions.
The winning bidder will also get a history detailing invoices and receipts going back five decades.
In addition, they will have the 1958 from-new tool kit beneath the bonnet.
Will Smith, sales manager for Silverstone Auctions, says that hopefully the new owner will preserve the Aston for several generations ahead.
He says it has become a substantial part of the Green family history over five-plus decades.
Copyright Press Association 2016. Motoring News articles do not reflect the RAC's views unless clearly stated.