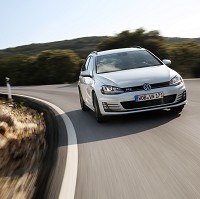 Volkswagen has been praised for the autonomous braking system in its Golf and Passat models.
Vehicle safety experts at the Thatcham Research Centre claim Adaptive Cruise Control (ACC) - which keeps a car at a safe distance from the traffic ahead - has led to a significant drop in third party personal injury insurance claims .
The technology comes fitted as standard on all new Golfs and Passats, apart from the entry-level S models.
Experts looked at more than 7,000 Mk VII Golf models insured for a full 12 months on the road.
They found the volume of third party injury claims involving the models was 45% lower than for the equivalent 'Small Family Car Control Group'.
Meanwhile, early indications suggest the Passat - which has a further developed AAC system on board, as well as the ability to detect pedestrians - could see an even greater reduction in accident numbers.
Thatcham Research says the figures offer a glimpse of what safety on the UK's roads could look like in the future.
ACC includes the radar sensor-controlled distance monitoring system Front Assist, plus city emergency braking and cruise control.
It allows drivers to pre-set the speed range which they want ACC to brake and accelerate the car within.
For example, they can restrict the speed of the car to the limit of the road they are travelling on.
When traffic slows ahead, the system immediately reduces the speed of the car to match.
If the car is too close to the vehicle in front, it will warn the driver with visual and acoustic signals followed by a short braking jolt.
The system will bring your car to a complete stop, if necessary.
Alex Smith, Director of Volkswagen UK, has welcomed the findings. He claims the trend towards standard ACC instalment will continue as new vehicles are launched.
Copyright Press Association 2015