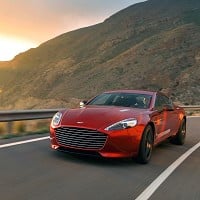 The two-tonne Rapide S has been unveiled by Aston Martin.
More power and more equipment set it apart from the car on which it's based, making it the most powerful four-door Aston Martin has ever built.
Courtesy of a new 6.0-litre V12 engine, the new model boasts 550bhp through 295-section rear tyres.
The engine itself takes advantage of technology derived from Aston's racing endeavours.
Launched globally and replacing the Rapide, it raises the bar in line with Aston Martin's increasing targets for worldwide sales, despite the luxury car insurance costs.
With a higher 190mph top speed, the new S model is recognisable by a deeper front grille.
Taking 4.9 seconds to reach 62mph, an extra 80bhp helps to escalate the Rapide's top end.
The new engine is mounted 19mm lower than the previous model, having a positive effect on the centre of gravity, while the handling balance has also been improved.
The Rapide S is better with fuel economy, seeing an increase to 19.9mpg on the EU combined cycle, with emissions down 23g/km to 332g/km.
On-sale dates are yet to be confirmed, along with prices, but next month has been rumoured for the first orders.
Copyright Press Association 2013