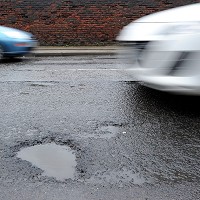 More than half of motorists have condemned the condition of their local roads, a survey has found.
Some 51% of drivers think their roads are in a poor state and 14% describe them as dangerous, according to research by Viewsbank.
Potholes left unattended can cause damage to vehicles and lead tocar insurance claims. Almost four in five of the 2,004 drivers polled said potholes were left in a state of disrepair for months. A further 6% of drivers said they had been involved in an accident caused by potholes.
The study also revealed that the average bill faced by motorists needing repairs to their car as a result of pothole damage was £165. Drivers said there was an average of four potholes on the roads they live in. Tyre damage was named as the biggest issue.
Chancellor George Osborne announced in his Budget this month that an additional £200 million will be provided to fill in potholes.
David Black, of Viewsbank, said: "The Chancellor has recognised the need to spend on road repairs and has committed to increase spending but potholes are clearly still a major issue and motorists believe little is being done to solve the problem."
Copyright Press Association 2014