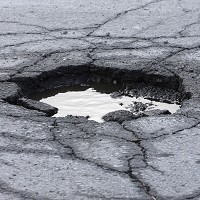 The increasing presence of potholes on our roads is putting motorists in danger, a tyre safety organisation has warned.
TyreSafe claims that hitting a pothole can cause a number of tyre and wheel problems that put drivers at risk, not to mention the cost to their pockets.
Consumer champions Which? recently revealed that Councils in England and Wales paid out £22.8 million in compensation to drivers for pothole related damage last year - forcing TyreSafe to speak out.
In addition to visible damage such as buckled wheels or lumps in the tyre, the organisation is urging drivers to keep an eye out for hidden problems like cracked alloys.
"If drivers do hit a pothole, it's important that they check their tyre pressures regularly over the next few days to see if there is any gradual loss of pressure," said Stuart Jackson, chairman of TyreSafe.
"Hairline fractures in the alloy wheel can lead to air escaping and low pressure can have devastating consequences."
Other pothole related damage that motorists should look out for include cuts, lumps or bulges in the tyre as well as any changes to the vehicle's feel or handling.
TyreSafe reported that over 100 cars with damaged alloy wheels passed through just one of its outlets in the last month, so it is important to regularly check your vehicle and make sure it is covered by sufficientcar insurance .
Copyright Press Association 2013