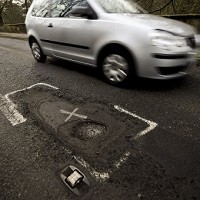 A spoof video about potholes released by a local council has come in for a bumpy reception.
Worcestershire County Council spent almost £1,000 on the four-minute video in which Jon Fraser, leader of the highways department, is shown in council offices and on country roads singing a parody version of Frank Sinatra's My Way.
The video aims to promote the work of the department and it is aiming for the kind of success experienced by Torfaen Council, in Wales, whose Elvis-inspired song about its gritters went viral.
Mr Fraser said: "We're really excited about the launch of Worcestershire Highways' own video, 'At work in highways', which we hope broadcasts a serious and important message about the value of reporting potholes in an enjoyable way."
However, the council has been accused of wasting time and money on the video at a time when it is looking to cut £100 million from its budget and also when motorists face the risk of having to call on their car breakdown cover due to vehicle damage caused by poorly maintained roads.
Robert Oxley, campaign manager of the TaxPayers' Alliance, said: "An amusing video will be zero comfort to motorists dodging potholes on the highways."
Copyright Press Association 2013