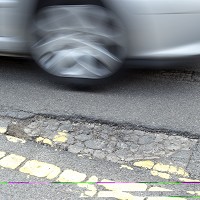 A city mayor has criticised Highways England after it allegedly took more than 33 hours to repair a giant pothole.
The huge hole on the A38 in Derby, which measured six inches deep and 5ft by 6ft wide at its greatest, damaged over a dozen cars in the space of two days last week, puncturing tyres and impairing suspension.
It first came to the attention of the police at 10.30am on August 31. Officers informed Highways England which sent staff to temporarily fill it. But the hole opened up again soon afterwards.
It was refilled again on the same day at 4.30pm, and again on September 1 at 10am. On both occasions it reopened.
The hole was eventually fully repaired at 8pm on the second day.
In taking so long, the Mayor of Derby, Councillor Paul Pegg, says Highways England "completely failed" in its duty to protect drivers. He claims the hole could have resulted in a serious accident, following reports of cars swerving to avoid it.
All four tyres of a BMW were reportedly dislodged, while one vehicle had two flat tyres and damage to suspension.
Cllr Pegg asks how long it will take Highways England to respond in the future. The organisation is yet to respond.
Copyright Press Association 2015