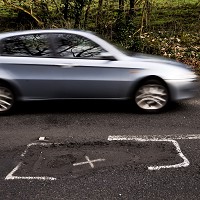 Responsible for countless car insurance claims, potholes are a scourge to Britain's road users.
And it seems the situation is only getting worse for drivers after a recent survey showed that 16% of motorists have had damage caused to their vehicle by potholes over the last 12 months.
This has led to an increase in compensation claims, which have seen local authorities shell out more than £5 million in two years to settle car repair bills. More than 26,000 claims were made in 2012/13.
Tyre damage is the most common problem caused by potholes, it was shown in data gleaned from 143 councils as part of a Freedom of Information request from LV=.
Another 16% of those surveyed reported almost causing an accident after serving to avoid potholes in the road.
The RAC has teamed up with Street Repairs to launch its free Report a Pothole App .
This allows motorists to quickly and easily report a pothole via their Smartphone or tablet pinpointing its exact location and adding photos and details, which is automatically reported to the appropriate local authority or highways agency.
Users have reported swift action by maintenance crews to repair reported potholes.
RAC Foundation director Professor Stephen Glaister said: "It is easy to see why we are in this situation.
"While recent harsh winters have exacerbated and highlighted the poor state of our roads, the seeds of our current problems were sown decades ago.
"Back in the mid 1980s local road surfaces were being repaired and replaced once every 12 years or so. Today the rate is once every 25 years."
He went on: "Spending on roads has fallen by almost a quarter in real terms over the past five years.
"The future looks equally bleak. Road spending is not ring fenced and councils say more and more of their limited funds are being diverted to statutory obligations like providing environmental services and social care."
Copyright Press Association 2014