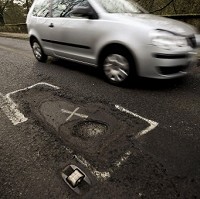 Road safety campaigners claim long-term funding is still required to continue tackling the UK-wide pothole problem, but that progress is being made.
The Institute of Advanced Motorists (IAM) has asked local highway authorities about the steps they are taking to implement Pothole Review recommendations, a year on from their publication.
Many drivers have complained to local councils about damage to their vehicles after driving over potholes, although some with comprehensive car insurance have been able to recover their expenses.
The IAM research among councils suggests many authorities are now letting the public know how and when potholes will be dealt with.
Almost half (47%) said they had published a report about their repair policy and 85% had clear definitions of what they are counting as a pothole.
The IAM found that 77% of the authorities surveyed provided clear details to the public about how long repairs would take and 57% used innovative means of allowing the public to report potholes they had spotted.
Councils have been forced to examine and overhaul their policy on roadworks following the Pothole Review, and 59% of councils said a 'prevention is better than cure' approach is now taken.
Permanent rather than temporary repairs are now carried out first-time by 71% of councils.
"It's probably too early to say that the Pothole Review has been a total success, but the early indications are mostly positive," said IAM chief executive Simon Best.
Copyright Press Association 2013