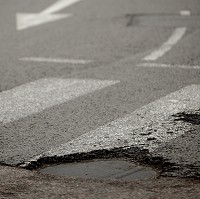 Complaints about potholes have almost doubled in the last year, with millions of vehicles suffering damage, according to new research.
Halfords Autocentres, which carried out the study, said that potholes on UK roads are giving motorists a financial headache, with figures running to £1 billion in bills to fix damage to cars.
Dozens of pothole complaints were received daily by local councils in December, according to online pothole watchdog, www.fillthathole.org.uk.
The deluge of rain seen this year across the country is being blamed for damage to road surfaces, however, according to Rory Carlin from Halfords, other factors should also be factored in.
He explained that some local councils are struggling to keep pace with the amount of road surface that needs to be fixed and drivers are keeping vehicles longer, which is said to increase the chance of damage when hitting a pothole.
Copyright Press Association 2013