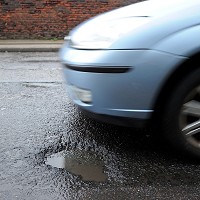 Motorists in Hampshire, Surrey and Essex were the worst affected by potholes last year, figures suggest.
The RAC Foundation reveals the councils in the three counties received the most compensation claims for vehicle damage caused by the holes, which continue to plague the road network across the UK.
Nearly half of the 1,760 claims in Hampshire were successful, with more than £285,000 paid out to drivers.
Surrey had 1,395 claims, of which 28% were successful, while Essex saw 1,359 claims, but only 5% of these proved successful.
Almost 29,000 drivers made claims against councils in Great Britain for damage caused to their vehicles by potholes, down significantly on the previous financial year, when they made nearly 49,000 claims.
"One reading of these figures could be that local roads are in better condition than they were. But that does not square with councils' own assessment that the road maintenance backlog is actually growing, not falling," said RAC Foundation director Steve Gooding.
"It could instead be that many drivers are put off by the time involved in claiming against a council. But nearly 29,000 claims in one year is still a huge number - three an hour, every day of the year."
The number of successful claims also fell nationwide, from more than 11,000 to around 6,800. As a result, the value of successful claims fell from £3.2 million to £2 million - less than half the total paid out two years ago.
Copyright Press Association 2015